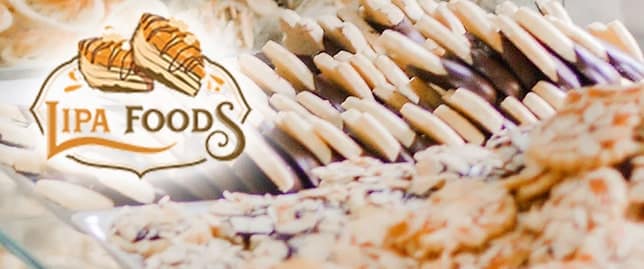 Lipa Foods
200 Viceroy Road unit 16, Concord, Vaughan, Ontario L4K 3N8, Canada
Coffee & Warm Drinks
Gourmet espresso coffee with Ch.Y milk and luscious frothed milk

Kosher Gourmet Hot Chocolate with Ch.Y milk

Kosher Brewed coffee with a splash of CH.Y milk

Kosher Black tea with a splash of Ch.Y milk

Sandwiches - Only after 10am
Salads
Bakery
Drinks
Pastas - Only After 10am
Kosher P.Y elbow macaroni in creamy cheese sauce


Kosher P.Y penne in creamy ziti sauce and melted (Ch.Y) mozzarella


Kosher P.Y Fettucine in creamy Alfredo Sauce (Ch.Y)

Soups
Kosher Pareve Butternut Squash Soup


Kosher Pareve Creamy Tomato Soup with P.Y elbow noodles

Overview Lipa Foods
Lipa Foods have managed to provide the same kind of "home-made" taste and quality to all of our products. Every one of our product items is made daily, just as you would at home. In order to ensure that every dessert is the tastiest, most delicious to be found anywhere in the province, we adhere to stringent guidelines when it comes to ingredients, preparation and presentation. Every detail must be perfect in order to advance and promote our company's desire to offer the best products to our customers.
All Lipa Foods products are Kosher Parve (dairy free), P.Y. and certified by the Montreal Kosher with their symbol, MK.
Contact details
200 Viceroy Road unit 16, Concord, Vaughan, Ontario L4K 3N8, Canada
Opening Hours
Monday

09:00 am - 05:00 pm

Tuesday

09:00 am - 05:00 pm

Wednesday

09:00 am - 05:00 pm

Thursday

09:00 am - 05:00 pm

Friday

09:00 am - 01:00 pm

Saturday

Off

Sunday

11:00 am - 05:00 pm
Your Order
If you have a discount code,
you will be able to input it
at the payments stage.
Start at $6.99
There are no items in your basket.
Confirm Order