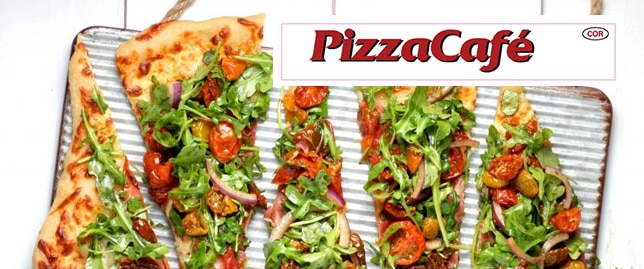 Pizzacafé
3774 Bathurst Street, North York, ON M3H 3M6, Canada
!! MITZVAH TIME, FOR EACH ORDER WE DONATE TO CHAÏ LIFELINE CANADA !!
Mains
Penne noodles with rose sauce and cheese.

With vegetables and salad.
Sides
Pizzas
Ricotta cheese, mozarella, and choice of tomato or eggplant.

Rose saude, penne pasta, mozarella, and seasoning.

Poutine gravy, fries, and mozarella
Panini
Matbucha, pesto, and assorted grilled vegetables on a marinated baguette.

Pesto, matbucha, and feta or mozzarella cheese.

Tuna, egg, matbucha, and feta
Salads
Sandwich On Baguette
Lettuce,cucumber, tomato,red onion, caesar dressing
Classic Tunisian
Classic Tunisan
Tuna, egg, matbucha, babaganush, mushrooms, onions, eggplant, coleslaw
Wraps
Drinks
Overview Pizzacafé
Contact details
3774 Bathurst Street, North York, ON M3H 3M6, Canada
Opening Hours
Monday

11:00 am - 08:00 pm

Tuesday

11:00 am - 08:00 pm

Wednesday

11:00 am - 08:00 pm

Thursday

11:00 am - 08:00 pm

Friday

11:00 am - 11:45 pm

Saturday

Off

Sunday

11:00 am - 08:00 pm
Your Order
If you have a discount code,
you will be able to input it
at the payments stage.
Start at $6.99
There are no items in your basket.
You will be delivered in the next hour
Confirm Order