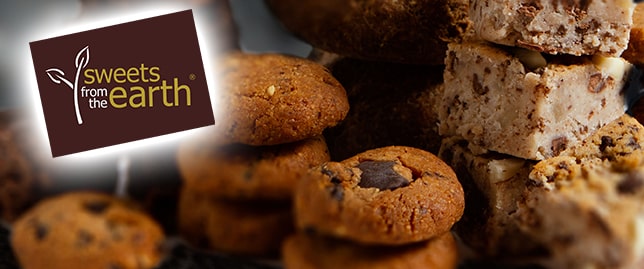 Sweets from the Earth
101 Canarctic Drive, North York, ON, Canada
Bundles
1 x Blueberry Scone 1 x Raspberry Chocolate Scone 1 x Coffee Cake Muffin 1 x Zucchini Muffin 4 x Whole Wheat Mini Bagels 1 x Cream Cheese 56g

1 x Apple Cinnamon Muffin 2 x Banana Chocolate Chip Muffin 1 x Chocolate Zucchini Muffin 1 x Almond Butter 56g
Cakes Slices
Cupcakes
Squares
Sweet and flavourful, our Peachberry Crumble is filled with summer's freshest fruits – juicy peaches and blueberries. Enjoy a slice for dessert that tastes like the best of summer!
Sugar free - Keto
Toppings
Hot Beverages
Cookies
Scones
Treats
Our Classic Coffee Cake Bites are made from our delectable vanilla coffee cake batter and baked into the perfect bite-sized coffee cakes with a cinnamon sugar filling. Individually wrapped.
This item doesn't include animal products.


All natural, decadent and sweet – these chocolate, hazelnut & almond bites are pure bliss! The perfect little treat for any time of day
This item doesn't include animal products.
This item doesn't include gluten.

Just The Ends
While they might not win any beauty awards, our JUST THE ENDS! lineup will more than make up for that in the taste department! We firmly believe that our sinfully delicious treats need to be finished down to the very last bite. You know those deliciously crispy, luscious little tidbits that are left over from cutting and packaging up our baked goods? No? Oh, but you will! We've packaged up those delightful morsels into little bits & pieces and created JUST THE ENDS for you!
DELIVERY ONLY
By taking only this option we will send a driver immediately to collect your order at Sweet From the Earth and deliver it to you quickly.
We assume that you have already placed and paid your order before directly with the restaurant.
A DRIVER WILL BE SENT RIGHT AWAY, PLEASE MAKE SURE YOUR ORDER IS READY FOR PICKUP
Overview Sweets from the Earth
Sweets from the Earth was founded in 2002 as an all-natural vegan bakery.  Our products are handmade in small batches using only the finest 100% plant based ingredients in either our DAIRY, EGG, SESAME, PEANUT & NUT FREE OR DAIRY, EGG, WHEAT & GLUTEN FREE bakeries. We offer a delicious assortment of cakes, cookies, muffins, bars & squares available at natural food stores, grocery stores, cafes and restaurants across Canada.
Sweet. Natural. Sinfully delicious, ethical baked goods.
Contact details
101 Canarctic Drive, North York, ON, Canada
Opening Hours
Monday

09:00 am - 05:15 pm

Tuesday

09:00 am - 05:15 pm

Wednesday

09:00 am - 05:15 pm

Thursday

09:00 am - 05:15 pm

Friday

09:00 am - 05:15 pm

Saturday

Off

Sunday

10:00 am - 05:15 pm
Your Order
If you have a discount code,
you will be able to input it
at the payments stage.
Start at $6.99
There are no items in your basket.
Confirm Order