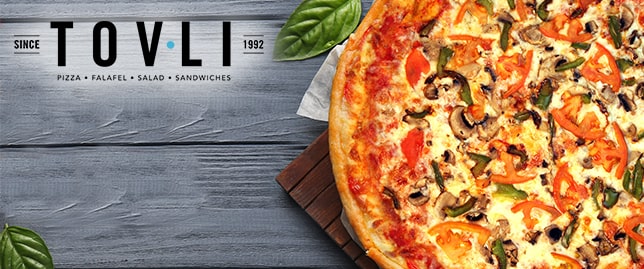 Tov-Li South
3523 Bathurst Street, North York, ON, Canada
WHITE PIZZA
Olive oil and garlic base
Double zucchini, diced tomato, mozzarella cheese

Green and black olives, spanish onion, feta cheese, mozzarella garlic infused olive oil base

Spinach, mozzarella cheese, feta cheese,garlic infused olive oil base

Squash, red onion, feta and rosemary, mozzarella cheese, garlic infused olive oil base

Mushroom, roasted onion, rosemary, mozarella, creamy white parmesan base
Mushroom, tomato, green pepper, mozzarella cheese, traditional pizza sauce

Fried eggplant, roasted red pepper and mozzarella cheese

Roasted red pepper, mushroom, zucchini and roasted onion, mozzarella cheese

Zucchini, black olives, feta cheese diced tomatoes, mozarella cheese, and traditional pizza sauce

Vegetarian peperoni,pineapple, hot peppers, mozarella cheese, traditional pizza sauce
BUILD YOUR OWN PIZZA
CALZONES
SALADS
BUILD YOUR OWN KOL BO SALAD
Start with a lettuce base.
PITA - BAGUETTES - WRAPS
PANINIS AND BURGERS
Zucchini, eggplant, onion, and peppers. Choice of feta or mozzarella cheese.

Lettuce, tomato, red onion, pickles, ketchup, mustard, mayonnaise

Tuna, red onion, black olives, tomato, and mozzarella cheese on multigrain

Lettuce, tomato, pickles, hummus, red onion, tahini, and spicy mayonnaise.
PASTAS
SOUPS
SIDES
Marinara, franks red hot, and creamy garlic and spicy mayo

Cheese, spinach and cheese, potato, mushroom and potato
A LA CARTE
DRINKS
MAINS
Overview Tov-Li South
Contact details
3523 Bathurst Street, North York, ON, Canada
Opening Hours
Monday

10:45 am - 07:30 pm

Tuesday

11:00 am - 07:30 pm

Wednesday

10:30 am - 07:30 pm

Thursday

11:00 am - 07:30 pm

Friday

01:00 am - 01:00 pm

Saturday

Off

Sunday

10:00 am - 07:30 pm
Your Order
If you have a discount code,
you will be able to input it
at the payments stage.
Start at $6.99
There are no items in your basket.
You will be delivered in the next hour
Temporary online orders not allowed for this restaurant, please try again after sometime.